YUUP!
"Quality and transparency to win the hearts of pet lovers"

Have pet lovers became more demanding with the standard of products they choose for their furry friends?

The latest trends show that the number of consumers that keep a close eye on the quality of the ingredients and the packaging of pet products is increasing. And this tendency applies both to pet food and to pet care products, making quality and transparency the strongest features for brands to make a breakthrough in the hearts of pet lovers.

And it is precisely in those key elements that is rooted the packaging project between Yuup! And Giflor. The two Italian brands have been working side by side, not only for geographical proximity, but also by shared values, such as the love and respect for nature, the vocation for research and innovation, and the culture of aesthetics, to create a collection of unique pet care products.

Introduced in 2011 by Cosmetica Veneta, Yuup! is a brand of premium cosmetic products specifically conceived for dogs and cats, that can be used both at home of by professional pet groomers. Exceptional in texture and fragrance, Yuup! cosmetics are distributed in more than 40 countries around the world. The natural ingredients of the their formula, that respect and protect the physiology of human and animal skin, is what make these products unique on the market.

The packaging of Yuup!'s products also reveal its green philosophy. Carefully designed down to the last detail, the pack aims at keeping the active ingredients of the product intact while giving back the feel of a high-end brand.

To complete the pack of its line of shampoos and conditioners, Yuup! asked Giflor for an elegant and functional closure system that could harmoniously adapt to the cylindrical shape of the bottle and enhance its vertical slender shape, while at the same time guarantee the total transparency of the packaging, a central element to convey to the consumer the feeling of absolute naturalness, reliability and integrity of the product.

The choice thus turned to the flip-top cap art. 738 from Giflor's Classic Line collection, a solution that, thanks to its ergonomic features, timeless design and the gleam of its transparent glossy finish, perfectly meets the customer's performance and aesthetic goals. Yuup! also decided to add an additional elegant finish to the cap by applying its logo on the top, a detail that contributes to enhance the perception of quality that only top cosmetic product can offer.


Download the 2021 Product Map
Discover all the solutions available to you by consulting the latest edition of our Product Map.
DOWNLOAD PDF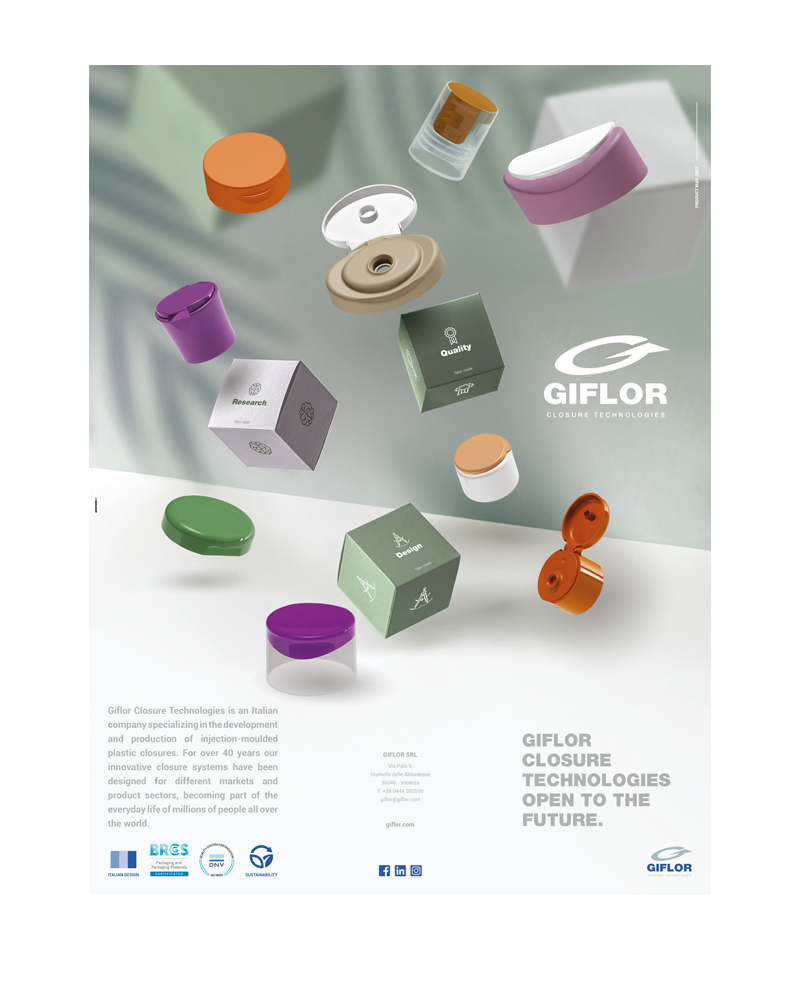 Contacts
One of our consultants is at your disposal to satisfy your requests and offer you all the necessary assistance
CONTACT US