Design, innovation, sustainability. Three simple words that encompass what Giflor represents today for millions of people around the world. The most important brands in cosmetics, personal care, food and parapharmaceutical / OTC industries choose our sustainable and patented design closure systems for the real benefits they bring to their consumers' lives. We create emotions through lines, materials and colours; we guarantee them comfort thanks to our product safety and practicality; we support a better future with our ongoing commitment to the environment. Our core values are summed up in these three simple but powerful words, who we are and what we want to be as a company: value for people and for the planet we live on.
HOW WE STARTED
Founded in 1973 by Giuseppe Fracasso, Giflor soon set a benchmark in the packaging industry thanks to its ability to innovate, offering closure systems that are in demand from an aesthetic point of view but extremely simple and functional. From a small town in the Northeastern part of Italy, Grumolo delle Abbadesse, Giflor took flight towards the main world markets.
WHAT WE ACHIEVED
Today we collaborate with prestigious international brands, we are present in all five continents, continuing to expand and improve our range of closure systems. We have grown and we have evolved, but our philosophy remains the one that has always distinguished us: we want to offer an exclusive product and an even better service, if possible. Because this is the only way we can make a difference for our customers.
WHERE WE ARE HEADED
Sustainability is the enormous challenge facing us, and at Giflor we are committed to tackling it as the protagonists of change. The R&D department is the engine that inspires and guides all our green projects: environmentally-friendly industrial processes, 100% recyclable and recycled materials, an elegant and lightweight design to reduce the environmental impact of our products. Moreover, through partnerships, we share our commitment with other companies in the world of packaging to give even more strength and concreteness to change.
Vision
We strive to be the best in the production of innovative, durable and sustainable designer plastic closure systems for cosmetics, personal and pet care, food, healthcare and OTC industries.
Mission
We will continue to broaden our range of product and bring to the market a pioneering, disruptive and flexible offer. Our passionate team aims for excellence by combining Italian creativity and know-how, seamless production and eco-responsibility.
VALUE PROPOSITION
Make your pack smarter and greener.
Giflor provides closure systems with a modern and refined design, made with sustainable processes and materials. An added value for companies and brands that want to communicate their identity and commitment to the environment through packaging.

Standing out, online or on the shelf.
Giflor's solutions feature pleasant aesthetic impact, ease of use, safety, resistance and durability. They are conceived to adapt to the needs of different types of products and markets, including e-commerce.

Just as flexible as you need.
Giflor offers its customers the best possible purchasing experience and a go-to-market aligned with their business strategies. Fast and guaranteed delivery times, dedicated pre and after-sales service, possibility to customize solutions: these are the levers that make us an ideal partner for all our customers.


Download the 2021 Product Map
Discover all the solutions available to you by consulting the latest edition of our Product Map.
DOWNLOAD PDF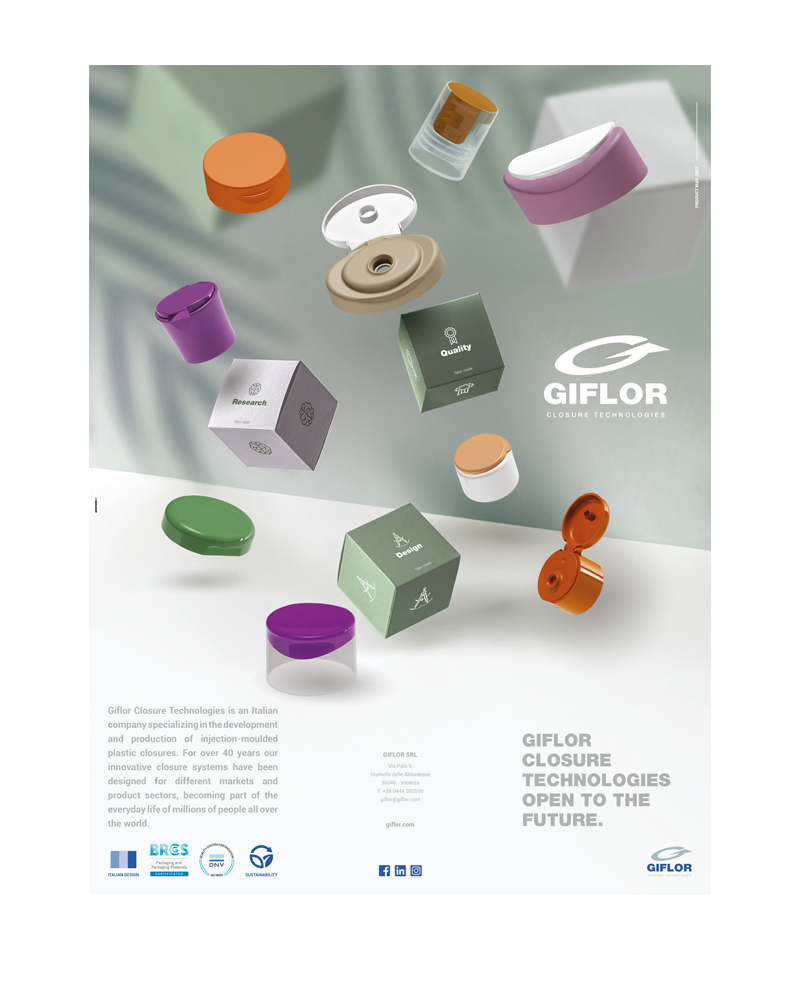 Contacts
One of our consultants is at your disposal to satisfy your requests and offer you all the necessary assistance
CONTACT US