Compact, lightweight, aesthetically appealing and above all sustainable.
Eco Low Profile caps are the result of Giflor's commitment since the early 2000s to develop eco-responsible closure systems and promote an innovative concept of packaging design, increasingly oriented towards "reduction" and respect for the environment.
Over the years, the Eco Low Profile line has been constantly improved and expanded by our R&D department, which has focused, in particular, its efforts on the evolution of ELP closure systems for tubes, a packaging solution widely used in markets such as cosmetics, personal and pet care, OTC, and food.
In all these product sectors, brands today are looking for sustainable design solutions that allow them to reduce the overall size of the pack and the amount of plastic used to make it, while maintaining the tube's functional characteristics and refined aesthetics. Giflor is able to respond perfectly to these needs with a full range of Eco Low Profile closure systems for different sized tubes. The patented innovation refers to the height of the shoulder that has been significantly reduced compared to the standard ones. On this shoulder we apply our Eco Low Profile caps, also covered by design patent, that are the thinnest closure solutions for tubes on the market so far.
The 772 cap from the ELP line for extruded and laminated tubes is designed to be applied to 50mm diameter tubes, the "traditional" format for this type of packaging. Ultra-lightweight sleek and minimalist design, art. 772 is made with about 50% less plastic than traditional closure systems and since its release has attracted considerable interest among brands and industry players on a global scale, so much so that it won the Tube Council's 2020 Gold Award in the "Best innovative components or process" category.
The ELP flip-top cap art. 770, on the other hand, matches the smaller, 35mm diameter tubes. Just like art. 772, art. 770 is characterized by its compact, sophisticated and sustainable design. It is made with a significantly lower percentage of plastic and lower energy consumption, and its reduced height and weight (-50%) also help decrease the total packaging size by 20%. A result that also has positive effects on the cost and environmental impact of shipping.
The Eco Low Profile collection caps for extruded and laminated tubes are available in three different materials: PP, PE and PCR, PP, for a monomaterial and thereferore "recycle ready" package option.
PCR ELP caps are made entirely from 100% recycled Post Consumer resin: applied to a tube with at least 20% PCR, they achieve a minimum recycled content of 50% for the entire packaging.
-50% VOLUME
-50% WEIGHT
FLIP TOP OPENING
RECYCLABLE
SNAP-ON COUPLING
INDUSTRIAL & DESIGN PATENT
LOGISTIC COST SAVINGS
STD COLORS
LOWER EMISSIONS
MAX 4 WEEKS LEAD TIME
REDUCED ENERGY CONSUMPTION
TOP QUALITY MATERIALS
ELP collection: join the change!
Discover how the ultra-lightweight design design of Eco Low Profile closures can make your packaging more sustainable
Download infographic
Download the 2021 Product Map
Discover all the solutions available to you by consulting the latest edition of our Product Map.
DOWNLOAD PDF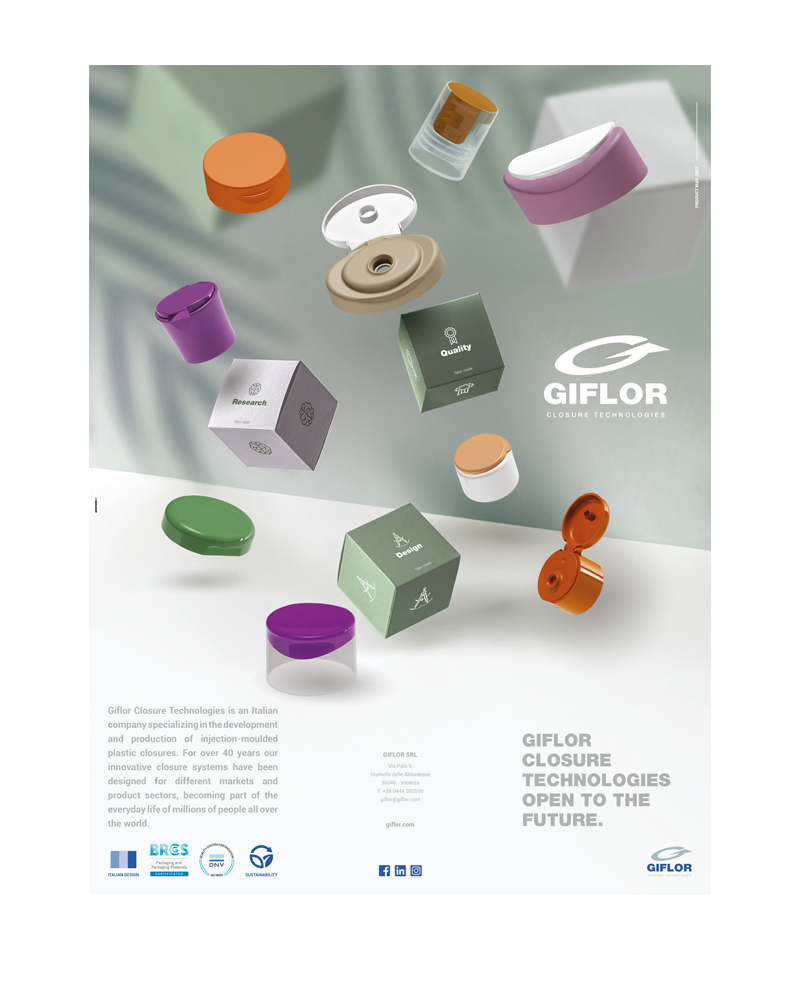 Contacts
One of our consultants is at your disposal to satisfy your requests and offer you all the necessary assistance
CONTACT US