Just Colours is our line of closures that uses bi-injection technology to create two-colour caps.
Bi-injection is an advanced technique for moulding plastics, suited to manufacture items using two colours simultaneously, as well as two types of plastic.
Thanks to this solution, an almost infinite number of combinations can be created, thus responding to different labelling and bottle requirements in the field of cosmetics and personal care, as well as in other areas.
Just Colors closures enhance brand identity and give the packaging a unique appearance and prominence on the shelf, increasing the product's appeal in the eyes of the consumer. In addition to the 350 standard colours, specific new combinations can be developed for a small surcharge.
Giflor's presses make production more flexible, faster and more quality-oriented, with exceptional results in terms of aesthetics and style. Our specialist technicians boast remarkable know how in the use of machinery, as well as craftsmanship in their care to details and customisations.
Made from polypropylene copolymer, a recyclable material, our two-colour caps for plastic packaging production also ensure lower energy consumption and faster production times compared to assembled closures, further reducing the environmental impact.
DESIGN PATENT
BI-COLOR
STD COLORS
RECYCLABLE
SCREW-ON NECK
SNAP-ON COUPLING
BORE SEAL SEALING
CRAB CLAW SEALING
PP-COPO MATERIAL
FLIP TOP OPENING
DISK-TOP/PUSH-LOCK OPENING
CLASSIC/INNOVATIVE SHAPES
EASY OPENING
GLOSSY/MATTE
TOP QUALITY MATERIALS
2 COLORS COMBO WITH NO SURCHARGE
LOGO ON DEMAND
MAX 4 WEEKS LEAD TIME
REDUCED ENERGY CONSUMPTION
LINING OPTION-IDEAL FOR E-COMMERCE
On request, our two-colour caps for plastic packaging can also be equipped with a liner and customised with a logo. Great appeal, infinite colour combinations, chromatic shades and countless customisation possibilities are Giflor strength.
Download the 2021 Product Map
Discover all the solutions available to you by consulting the latest edition of our Product Map.
DOWNLOAD PDF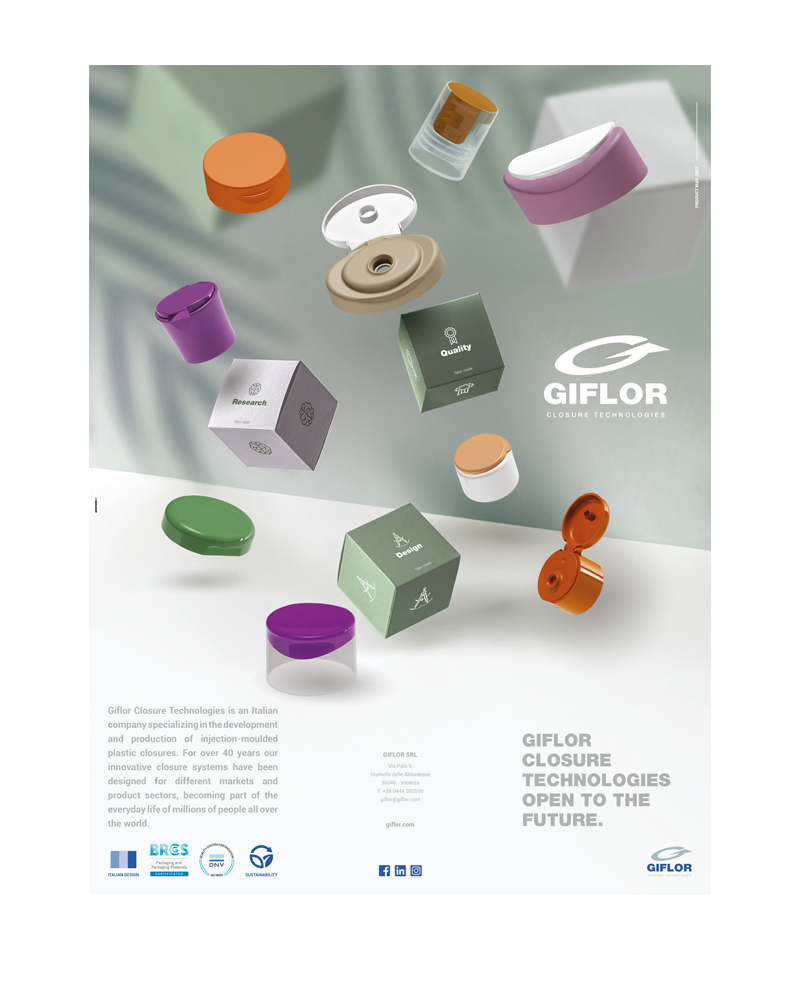 Contacts
One of our consultants is at your disposal to satisfy your requests and offer you all the necessary assistance
CONTACT US