GREEN MATERIALS
We use different kinds of green materials: 100% recycled (PCR), bio-based (Vegetal PE) and Carbon Black Free resins, which contribute to the Circular Economy in different ways.
Give plastics a second life: the development of our 100% recycled material, which is compliant with REACH standards and available in different trendy colors, demonstrates a significant, sustainable way to reduce the amount of plastic waste polluting the environment.
Give Bio-plastics a chance: the development of our Vegetal PE material, which comes from a biological non-fossil origin such as sugar cane waste, is a sustainable way to reduce the quantity of "traditional" plastic released into the environment.
Give recycle-ready products a chance: the development of our HDPE resin allows us to create a recycle-ready packaging by using applying to the bottle a cap that is made with the same material, leading to easier disposal, collection and recycling of the whole pack.
Give black plastics a recycling chance: the development of our carbon black free resin, which contains a specific additive that enables black closures to be integrated back into the recycling value chain, secures the correct identification of the material and makes recycling of black parts possible.
Two-times green
We double our environmental commitment. Thanks to the efforts of our R&D department, the lightness of Giflor's Eco Low Profile model, made with 50% less plastic, is now combined with the sustainability of Post Consumer Resin, our 100% recycled material. This is how the new ELP-PCR closure systems are born: two times green solutions for a more sustainable packaging.
Plastic< less
Our environmental awareness has led to the development of a line of extremely small, lightweight caps with a substantial reduction of weight up to 50%.
CONSCIOUS PRODUCTION
A new cooling process management, as well as new electrical and hybrid machines, enable us to reduce the environmental impact of our production.
GREEN LOGISTICS
Reduction in caps weight and volume also means more efficient logistics, for example allowing to add more trays to the carton.
Download the 2021 Product Map
Discover all the solutions available to you by consulting the latest edition of our Product Map.
DOWNLOAD PDF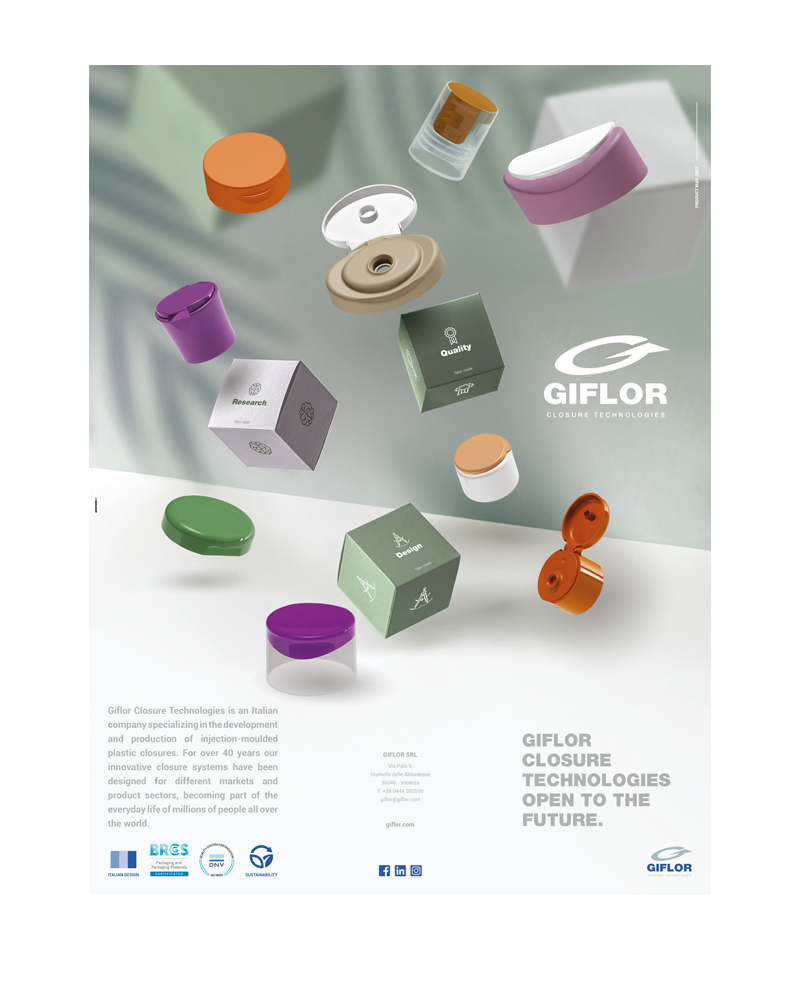 Contacts
One of our consultants is at your disposal to satisfy your requests and offer you all the necessary assistance
CONTACT US