INTERVIEW WITH MR. RIDVAN DEMIROK
Published 24 August 2021
Ridvan Demirok, Giflor's historical partner in Turkey, gives us insight into packaging development through multitasking, being both a bottle manufacturer as well as Giflor's agent and distributor.
Ridvan, please, tell us about the benefits and challenges of being multitasking (as both a bottle manufacturer as well as Giflor's agent and distributor).
First of all, I would like to mention that our journey in dispensing systems business had started in 1992 and our cooperation with Giflor is dated to 1996.  Many years, we acted as representative, agent, distributor of dispensing systems producers with no production of bottles. Actually, it is still our core business which covers 60 % of our turnover.  We started bottle production in 2010 with force of one of our customers who has been happy with our service and wanted to give us bottles' business as well.  Starting with two extrusion blow moulding machines, today we are working with 10 EBM machines and naturally serving many customers.
After such a long entry, the answer to the question follows.  Multitasking is a nice word and I am happy that we are.  Let me list the benefits first.
When a customer asks for a cap, we ask whether they have bottle, and the visa-versa is valid too. In case we sell a set product (cap & bottle) we are responsible for both, in this way customers take the advantage of trust on us.
Nothing to mention that the mark-up for a set product is better than just selling a cap or a bottle.
The most enjoyable part of production is when a customer comes up with a new project. We sit and talk for hours, checking the labelled bottles with Giflor caps and existing samples available in our showroom, and then find the suitable Giflor cap and make the bottle's sketches…
When it comes to challenges:
We have been well known as dispensing systems distributor. When we are revealed to be a bottle manufacturer, other bottle manufacturers might hesitate to contact us for Giflor caps or refer their customers to us. Recently, we have been trying to solve this problem by sending Giflor Newsletters to a special group of companies that are manufacturers of PET, HDPE, PP bottles.
We have never insisted on the production of bottles when a customer says they would like to have bottles produced elsewhere. Our bottles are already said to be more expensive compared to other local bottle manufacturers.  But we, as Giflor does, serve customers looking for quality.
Can you let us know an episode when you had to multitask? What made multitasking an opportunity in that situation?
I would like to give two examples on this matter.
A potential customer with the start-up of hair shampoo production has approached us. We have designed a 400 ml bottle with a plastic closure Art. 850 based on the sketch we drew together with our customer. As a result, we are currently producing bottles and procuring   caps from Giflor for them.  I believe that in the near future, when the business becomes on regular basis, we will keep stock for this customer.
Another potential customer was referred to us by Giflor after their direct contact. We have been in touch with this customer before, but they preferred to deal directly with Giflor, so in this case we remained as Giflor 's agent.  They also required bottles, and now we produce bottles for them, namely: two bottles from our own range and one bottle with their design and required dimensions.  Giflor invoices the caps directly to the customer while keeping our commission.
Due to the fact that Turkey is a bridge-market between the East and the West, how do you think this affects the local development of the packaging industry?
I think Turkey is more like cultural bridge rather than a bridge-market.  Packaging industry is diverse and extensive, thus Turkey 's packaging industry is good in the line of flexible packaging while rigid packaging is under development.  If you consider the countries of the Middle East, the industries that require packaging are not very developed, and as a result they consume more finished goods.  We naturally have got customers supplying cosmetics to the Middle East countries with our bottles and Giflor caps.  In my opinion, this is a bridge affect and most likely, not only we carry out such transactions.  As far as I know, Giflor also has got direct and/or indirect customers in the Middle East countries, to whom we supply bottles, which is another good example of the bridge affect.
Understanding the huge importance of the bridge-market trading, which opportunities could you indicate for the future development of Giflor?
We should expand the supply of Giflor caps and Unison bottles.  Dubai exhibitions could create bridge-market trading opportunities, as well as our traditional Packaging exhibition in Istanbul. Focusing on potential customers in the Middle East, we may consider joint participation in the local exhibitions. Of course, the next step could be thought of Giflor cap production in Turkey.
Download the 2021 Product Map
Discover all the solutions available to you by consulting the latest edition of our Product Map.
DOWNLOAD PDF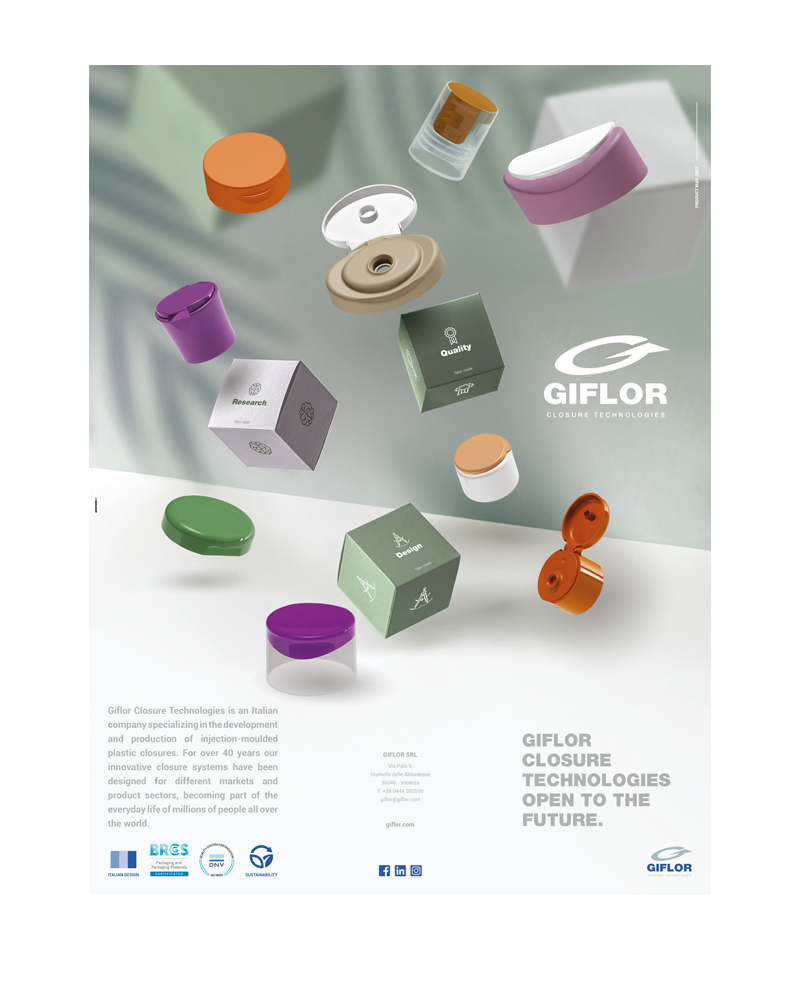 Contacts
One of our consultants is at your disposal to satisfy your requests and offer you all the necessary assistance
CONTACT US