INTERVIEW MR. PAOLO LOBBA
Published 15 June 2021
Paolo, how do you describe your job function & activities in Giflor?
Being responsible for Research & Development division, I am working  in close contact with sales and marketing departments in order  to study plastic industry trends, to design and develop  fresh  ideas  leading to new product  development.
Then research of new materials, innovative production processes and assembling techniques is in constant progress, being now part of Giflor's DNA. For this purpose, the ability to create synergies with most advanced specialists in this field, with research labs as well as  with local universities, assumes great significance.
Moreover my job responsibilities include the constant expansion of the mould warehouse, creating new injection molds capable of offering high performances granting top reliable efficiency with the target of creating dispensing solutions capable of offering high performances and capturing the public with  eye-catching designs.
Our customers can also take advantage of customization services to create personalized dispensing solutions : this allows me to interact directly with clients on new product development projects.
This give us real-time problem solving and taught me to look at things from the customer's point of view.
In my opinion, the everyday challenge is out-of-the-box thinking, smart improvisation and optimal engineering with minimal resources.
How important is the innovation process within Giflor's strategy?
I believe that the innovation process is one of the main levers of a successful business thanks to which we are able to proactively respond to market trends, staying a step ahead of our competition. This is the only way for us to meet the changing needs of our customers and consumers.I'd like to note that innovation has  historically been part of our DNA:  we have our own innovation team and we work on issues such as trends and future demands. Local trends often turn into global ones and we benefit globally from the feedbacks and new requests of our international network of partners.
For instance, countries such as USA have played a leading role in e-commerce and now online retail  is becoming popular all over the world. We put a lot of effort into making our products suitable to new distribution channels, capable to meet the global demand. And as a result, we have designed a 560 closure  that has recently received the ISTA 6-Amazon certification proving its perfect e-commerce suitability, preventing any kind of leakage, accidental opening and breakage.
Giflor new products and innovative solutions are reached through a carefully studied path by experts, which leads to the development of products that can conquer the public and the market. Moreover, Giflor innovation process is not just limited to packaging solutions, but involves processing technologies, new devices, organization and innovative materials: in practice, everything that makes things easier, more efficient, cleaner and more  environmentally friendly.
Which is your idea regarding sustainability and design? Can they live together?
Since its beginning, the main goal of packaging was  to protect its content  as well as making  them easily portable and safely storable. That primary purpose remains important throughout the history of packaging to nowadays, in addition to another role: branding.
For us, research means finding new shapes, designing innovative and functional mechanisms, testing new finishes, creating materials that perform even better. All this guarantees  the preservation and usability of finished products and contributes to the  growth of the circular economy.
This recognition has led to the more mature concept of innovative packaging  design, one that takes into account the entire life cycle of the package and its relationship to its contents. Design and sostenibility are considerable challenges that open up positive opportunities for our industry.
How do you see the future of packaging industry?
The entire plastic packaging industry is in a phase of transition due to new sustainability standards and challenges and I'm eager to see how innovation plays an essential role in meeting  them.
Regulatory agencies are concerned about the safety of packed foods and pharmaceuticals. There is pressure to make packaging materials recyclable and sustainable.
On one hand, consumers demand packaging that is easy to open and use. On the other hand, retailers want no leakage and maximum shelf space utilization.
However, at the end, if the product is not protected, the manufacturer has nothing to sell.
We know that, while an eye-catching package often creates a dramatic burst of initial sales, the true test of packaging success is in the repeat sale.
Long product life results of careful research and planning that leads to consumer satisfaction.
We can proudly say that we have been  pioneers  in  environmental solutions : Giflor has created the Eco Low Profile (ELP) cap collection. Thanks to its very low height, this PP cap uses 50% less plastic than a conventional cap while granting the same functionality. Now this concept of using less plastic as much as possible is wordlwide recognized and adopted, including also recent applications in the tube segment.
Giflor is currently manufacturing closures with a new generation of PCR resins with  "Reach Compliance" for homecare application and for use not requiring a food approval, in different colors, included clear ivory.  The company can also manufacture bio-based resin caps, made from sugar cane waste (with up to 70% of bioresin). Giflor has created several e-commerce solutions, such as the above mentioned "push-lock" closure  560 which secures the tightening and avoids accidental opening and leakage. Additional option for e-commerce offers a double sealing one thanks to a wide liners choice"
Download the 2021 Product Map
Discover all the solutions available to you by consulting the latest edition of our Product Map.
DOWNLOAD PDF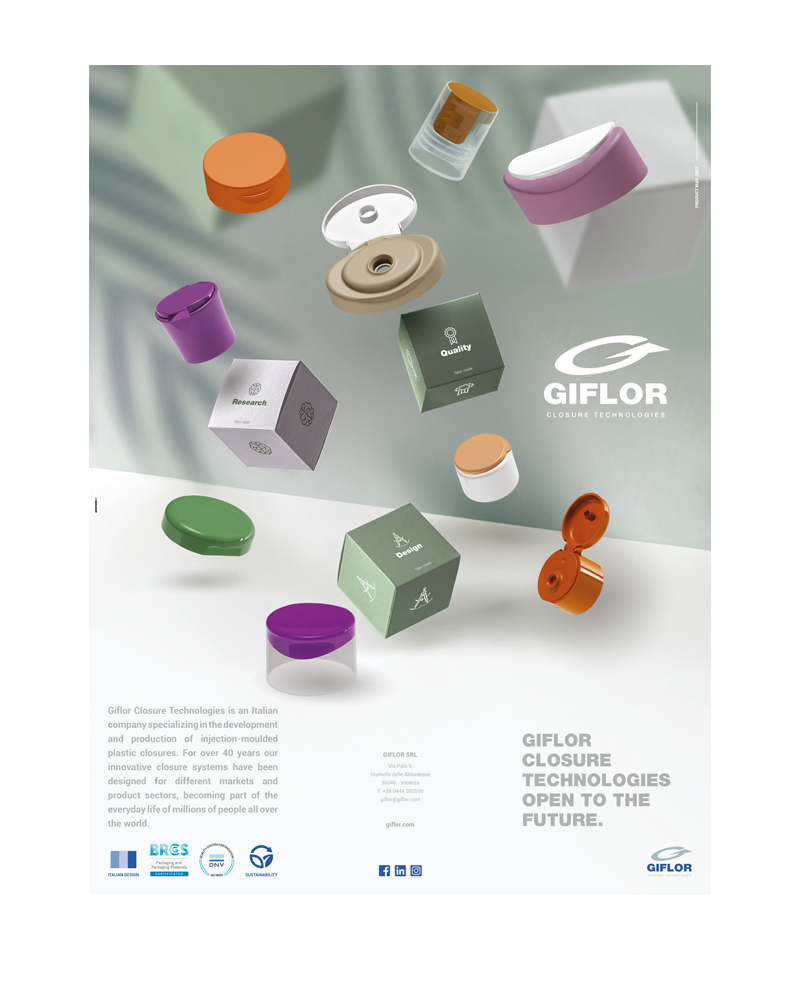 Contacts
One of our consultants is at your disposal to satisfy your requests and offer you all the necessary assistance
CONTACT US