Giflor's 100% PCR closures
Published 19 February 2020
Giflor's environmentally conscious Post Consumer Resin collection revolves around the use of "recycled" materials for the sake of the planet: plastic is given a second life through the recycling stream, which aids in a reduced carbon footprint. This highly innovative and eco-friendly PCR closure collection responds to the growing demand for a circular economy and helps brands improve their sustainability credentials with 100% green packaging solutions.
PCR (Post Consumer Resin) is the technical term for plastic that has already been recycled and is ready to use again. It begins with the collection and sorting of recycled products – plastic bottles or caps for example. These bottles are then separated from the other plastics, washed and cleaned of all other materials (for example the labels, bottle tops etc). The recycled plastic is then reprocessed into PCR.
The newly developed Giflor's PCR range is 100% sustainable, colourful and certified: "ALL IN ONE". The closures are made in unique trendy and catchy colours that provide a powerful visual and shelf impact. Among the 12 deliverable options, the most recent nuances are emerald green, primrose yellow, ketchup red and deep blue, now available to make the packaging of iconic brands even more memorable.
One particularly special colour is "Ivory": a light clear option that makes PCR achievements as a recycled material even more stunning.
Giflor's PCR closures are Reach compliant. Reach is a regulation of the European Union adopted to improve the protection of human health and the environment from the risks that can be posed by chemicals.
Giflor's 100% PCR closures will be featured at Packaging Innovations Birmingham, Booth D29.
Download the 2021 Product Map
Discover all the solutions available to you by consulting the latest edition of our Product Map.
DOWNLOAD PDF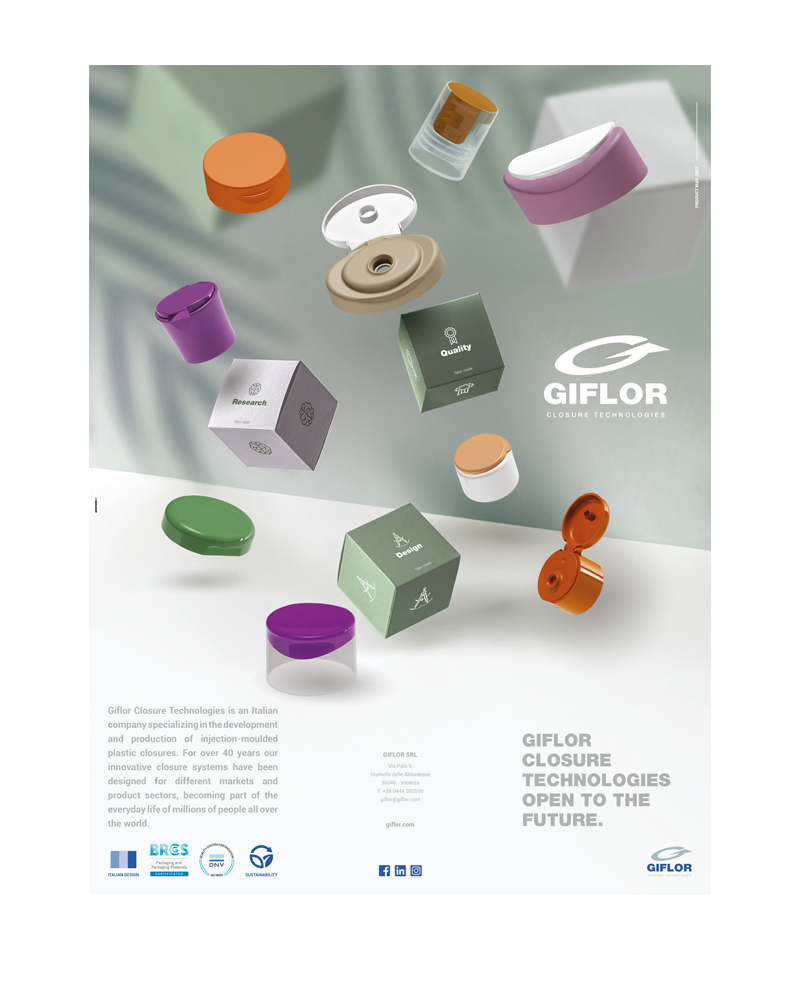 Contacts
One of our consultants is at your disposal to satisfy your requests and offer you all the necessary assistance
CONTACT US